The number of requests from large business customers asking to be connected to the electricity grid or be given access to increased capacity is growing. At certain points in the electricity grid, capacity is scarce and the grid cannot always be upgraded quickly enough to meet this extra demand, which means that a transmission limit must be imposed on customers.

The capacity on the grid is not only becoming scarcer due to the higher demand for electricity, there is also the ever-increasing number of customers who generate their own energy, through large-scale solar generation for example. Given that, in the Netherlands, the sun generally shines everywhere at the same time, this electricity also enters the grid all at once. This, too, can be more than the grid's capacity can handle.

If the extra supply of solar energy could be balanced locally with the demand, the grid could handle both. That is why network operators in the Netherlands are looking for ways to shift large business consumers' demand for electricity to, or increase it during, the hours when the sun shines the most.

Specifically, they are looking for solutions that can be implemented for large business consumers behind the meter (i.e. on the user's side of the connection point) to increase the demand for electricity when there is an excess supply of solar energy. A prerequisite is that the consumer and generator must be connected to the same medium-voltage grid. The distance within the medium-voltage grid generally varies between 0 and 10 kilometres. Customisation will ultimately have to determine whether the generator and consumer concerned can be considered to be in the same section of the grid so that the solution can be applied.

In terms of the target group, this mainly concerns commercial greenhouses, data centres, rural farms, industrial plants and large buildings. The solution can help currently connected parties (i.e. consumers and generators of electricity) in congested areas as well as newly connected parties who want to start up operations and who have been promised limited transmission capacity, but not the full capacity they require.


About us
Alliander is a group comprising various operating companies. As one of these operating companies, network operator Liander is responsible for the gas and electricity grid for a large part of the Netherlands and manages the energy distribution across all grids, day in day out. Liander's professionals keep the lights on and the heat going at around 3 million homes and businesses in the Netherlands.


What we are looking for
For this challenge, we are focusing on the problems caused by the large amounts of solar energy being generated. Because electricity generation by solar panels largely takes place at the same time and also in places where there has previously only been limited demand for electricity, there is a shortage of transmission capacity. Given that solar energy is difficult to control, we are looking for ways to shift the demand for electricity to, or increase it during, the hours when the sun shines the most. This way local balancing of supply and demand can be ensured.
We want to facilitate the development of solutions that stimulate the electricity consumer to consume more electricity when the sun is shining. This prevents us having to impose transmission limits and/or having to expand/upgrade the grid. A solution without a financial component is preferred. However, if a financial component is necessary to encourage large business consumers to consume more electricity when the sun is shining, a solution with the lowest possible cost contribution by the network operator is preferred.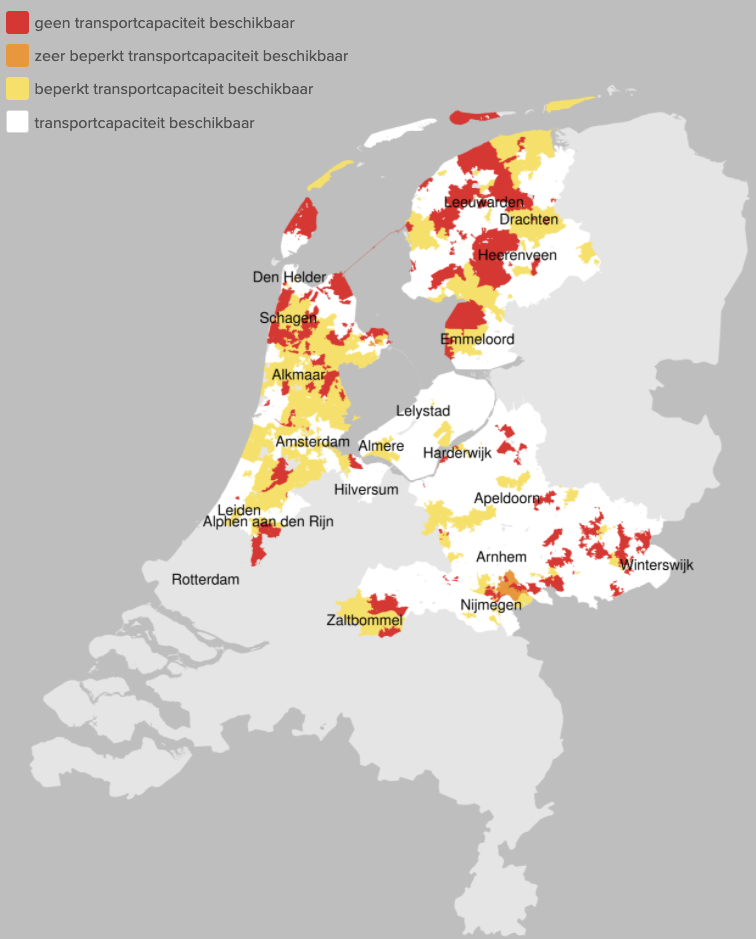 Capacity available in area's 10-12-2020


Register for information meeting
On Monday the 1st of February there is an online information meetup from 14.00-16.00. If you're only English speaking please tell us in the question field of the registration form



As a network operator, Liander is legally bound to keep to its core tasks and therefore may not provide additional services to large connected parties that could offer a solution to this challenge. For this reason, we are seeking parties that have a satisfactory solution that large business consumers of electricity can purchase directly. This requires a strong business case. This requires solutions that:
ensure that large business consumers can and want to consume more electricity during periods of solar peak production;
create a business case that makes it attractive for large business consumers to implement the solution.
We are looking for demand response solutions to increase electricity demand for one or more customer segments during sunshine hours. The customer segments where we believe the greatest opportunities for a solution lie are:
commercial greenhouses
data centres
rural farms
industrial plants
large buildings in the built (urban) environment.
You can read about the challenge posed by each of these segments here below

If you think you have the solution (or a part of the solution) for this challenge, we'd love to hear your pitch!

An analogy:

To get a better picture of the challenge, you could imagine the situation as a traffic congestion problem, with the electricity grid as a motorway and the demanded/supplied electricity as cars. In recent years, an increasing amount of traffic has been using this motorway, with significant peaks at certain times, for example when the sun is shining, while at the same time the cars have no place to go at those times so they stay on the motorway. This congestion is not only a major problem for motorway operator Liander, but also for businesses and private consumers. A large traffic jam can lead to overloading the motorway and, consequently, a section being shut down. To keep this from happening, Liander is forced to allow only a limited number of cars onto the motorway. Since the motorway is part of the critical infrastructure of the whole of the Netherlands, this problem has social and economic consequences. This is undesirable.

Solar panels have a high degree of simultaneity (everything happening simultaneously). This is because the sun is shining everywhere at the same time, and at that moment all the PV panels are feeding the energy generated into the electricity grid all at once. Because of this simultaneous feed-in to the grid, the grid becomes congested. Just like when, in our analogy, on sunny days the motorway becomes overcrowded because too few cars are leaving the motorway, here the congestion occurs because too little energy is being consumed. What can our large business customers do during 'rush-hour traffic' (caused by solar energy) to consume more electricity and this way ease traffic congestion?
We challenge you to make the best use of your fresh perspective, brainpower and expertise!

A good solution to this challenge will meet a number of criteria:
It must be possible to implement the solution 'behind the meter' (i.e. on the user's side of the connection point) of a large business customer.
You must be able to present a positive business case for all the stakeholders; this means that the solution must be based on a realistic contribution from all parties.
The solution must also be profitable at least within a few years for the large business customer (including recovering the cost of the investment).
If the ultimate solution also involves a financial component, it must also be indicated how much the network operator needs to contribute in order to develop a positive business case. The lower this amount, the more interesting the solution will be for the network operator.
Connected parties are already experiencing inconvenience due to congestion on the grid. We are looking for innovations that will produce a proof of concept in 2021.
The solution must be scalable within one or more customer segments. Our assumption is that the solution will be such that it can be applied within as large a part of the segment as possible. Applicability in multiple segments is an advantage, but certainly not a prerequisite.
Safety and security must be guaranteed at all times.
To prevent losses and unsafe situations, we require very high reliability (over 99%). Also consider how this reliability can be monitored.
The solution complies with current laws and regulations and can be implemented without this requiring changes to the code and/or the law.
The solution connects to the communication systems and/or platforms used by the network operator (communication through the GOPACS system managed by Stichting GOPACS is preferred, though an alternative system would possibly be considered).
The knowledge that Alliander provides and develops in relation to this challenge will become open source; we are therefore unable to collaborate on a proprietary IP solution. The open source IP can of course be used in products and services you develop.

We are more than willing to facilitate you in developing a satisfactory solution and business case, one which makes it interesting both for you to bring the solution to the market and for large business consumers to procure and implement the solution.
What aren't we looking for?
We are not looking for a solution:
that is, from a technical perspective, a solution, but where there is no added value for the network operator because it does not connect to the control systems;
that could only be used in a future scenario and is not a solution that can be applied right now;
which is technically ready but for which there is no conclusive business case in the current market;
that is already being studied within the Alliander group. This file (pdf download) provides an overview of these 'solutions in progress', which can also serve as a source of inspiration for new ideas.
What's in it for you?
This challenge is an opportunity for you to help address one of the greatest challenges society is facing at this time: the energy transition. The greatest challenge is to advance this transition without compromising the reliability, affordability and accessibility of the energy supply. Your solution can play a role in this.
You could be awarded an innovation budget of up to €30,000 – depending on the type of solution – to develop, set up and test a pilot.
Our technical specialists and/or consultants can serve as sparring partners. They can provide you with further information on the needs and problems of the network operator so that you can fine-tune your solution and make it even better.
After you have won the challenge, we would like to bring your solution to the attention of the media on one occasion. We may not actively present the solution to large business consumers though. You can of course publicise your solution on your own.
Conditions of participation
You are registered in the Dutch Trade Register (or comparable register in another country).
The solution complies with all applicable laws and regulations.
You will be able to demonstrate a working prototype/product/service.
You will be able to launch a pilot within 3 to 9 months.
Your pitch (max. 4 pages/12 slides)
Concept description:
Describe your concept in as much detail as possible. Also state for which customer segments your concept offers a solution.
Pilot description:
Give a brief description of the prerequisites for setting up a pilot and what you will actually need. Consider aspects like the required support, access/materials/data and the budget for a pilot.
Business case:
Describe your business case and that of the large business customer. For a solution with a financial component, describe the amount required from the network operator to develop a positive business case.
Descripttioon of the team:
Give a brief description of the company and team that intends to bring the solution to the pilot phase.
You are free to choose the format in which you submit your pitch (presentation, slide deck, document), but you must also upload it as a PDF file (portrait or landscape A4, maximum 30MB). Video clips, website mock-ups, etc. may be included as links.
Pitches in English are allowed.
Timeline
Thursday 7 January: Launch of the challenge
Monday 1 February 2pm-4pm: online information meeting – register now!
Monday 15 February 5pm: Challenge deadline
1 March: Introductory meetings/live pitches
No later than 5 March: feedback on selection (by email)
Q2 2021: Start of development.
Background information
Connection categories for large business customers
Large business customers are divided into 3 different connection categories (CC):
CC4: capacity of up to 160kVA on the 400V grid (low-voltage grid)
CC5: capacity of up to 2MVA on the 10 or 20kV grid (medium-voltage grid)
CC6: capacity of more than 2MVA on the 10, 20 or 50kV grid (medium or intermediate-voltage grid)
Demand for electricity during periods of peak sunshine
It can be assumed that on a day with a lot of sunshine, between 600kWh and 6MWh extra solar energy per day/peak day must be consumed from the same medium-voltage grid (typical solar PV power in the MV grid is 100 to 1000kW). These figures are based on the network operator's practical experience and should serve as the basis for the system on which the registration for the challenge is based.
Customer profiles
The large business consumer base comprises customers with widely varying profiles. Although these customers have the same type of connection, they all encounter different constraints. Some examples:
Commercial greenhouses: how much and when these businesses draw electricity from the grid depends on the price of electricity, meaning they will all consume electricity at the same time, causing a peak in demand.
Rural farms: an increasing number of farm operators are focusing on ensuring a sustainable future and are installing solar panels on their roofs or in their fields. Because these areas are sparsely populated, the electricity generated is not consumed locally. The electricity grid is not up to transmitting these large amounts of electricity all at once.
Data centres: due to good fibre optical connections and a good business climate, more and more data centres are being built close to Amsterdam. These data centres require a high degree of reliability in their energy supply, which is why they procure ample capacity. One data centre requires about as much electricity as a medium-sized Dutch city. In this region, the available capacity on the electricity grid is limited and there is little local energy generation. So the demand overloads the electricity grid.
Industrial plants: large industrial operators will also be intensifying the electrification of their plants in the coming years. The electrification of industry throughout our service area is causing the demand for electricity to rise sharply. This will lead to capacity bottlenecks on the electricity grid. An important spearhead for industry is affordability: any innovations they implement must lead to processes that remain competitive with those of other companies so that their competitive position does not suffer as a result.
Built environment: both public buildings (schools and other government institutions) and private buildings (offices and homes) are currently consuming and generating a lot of energy. The amount of demand varies greatly and, when aggregated, this can lead to a lot of local generation. Furthermore, for the built environment it is important that projects guarantee affordability, simplicity and comfort.
Appendices
Check this link to see at which regions capacity is scarce.